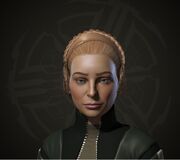 Born in 3004 to
Gregory Lovett
and
Dominica Hickerson
on
Manhattan
. Her great-grandfather,
Farlow Lovett
, was also a previous Republic president, well-known for signing the unprecedent
Ancheran-Manhattan Security Pact
, which helped to secure the nation a critical ally in its foreign wars and assure security for the southern galactic front of the 
Aconcagua Core
.
She was elected to the High Congress of the Republic of Manhattan in 3048 to represent Manhattan as part of the Institutional Constitution Party. She was appointed to the position of President of the Republic of Manhattan in 3054. 
Lovett was killed in the Morningside Cathedral Bombing in 3071. Her position remained vacant and soon was rendered defunct with the collapse of the Republic during the Lovejoy Revolution.
Ad blocker interference detected!
Wikia is a free-to-use site that makes money from advertising. We have a modified experience for viewers using ad blockers

Wikia is not accessible if you've made further modifications. Remove the custom ad blocker rule(s) and the page will load as expected.